Thank you to the Hawkins County Sheriff's Department, a suspect has been charged relating to recent Snapchat posts threatening disruption to our school operations and/or student and staff harm at Cherokee High School. At this point, this threat has been effectively dealt with and school will operate as normally planned. Thank you for those who shared the posts with staff, for those who shared information, and for those who continually monitor social media for such threats.
This is a reminder for families to apply for free or reduced-price lunch benefits for the 2023-24 school year! If you have a student who had free or reduced benefits last year, you must apply for benefits for this school year. This includes students who attended a CEP school last year but are enrolled in a non-CEP school this year. Applications are available online and at your student's school office. Any student who had free or reduced benefits last school year and has not yet applied for benefits this school year, will move to a paid status on 9/20/23. Any meal charges accrued because of the change in meal status will be the responsibility of the family. If you have questions about your student's meal status, please contact the Child Nutrition Office at 423-272-2128.
Bus 15 will not be running the AM and PM routes on Friday the 18th. If your child rides bus number 15 they will need to be car riders to and from school tomorrow. Sorry for the inconvenience.
Bus #22 will not be running on AM and PM routes tomorrow Wednesday August 16th. If your child rides bus #22, they will need to be a car rider to and from school tomorrow. Thank You
Due to continued rain, standing water in roads, and more rain in the forecast for early this afternoon, Hawkins County Schools will be closed today August 10. Current road reports are already showing signs of standing water and flooding situations.
Hawkins County Schools will be on a 2 hour delay tomorrow August 10th, due to risk of possible flooding.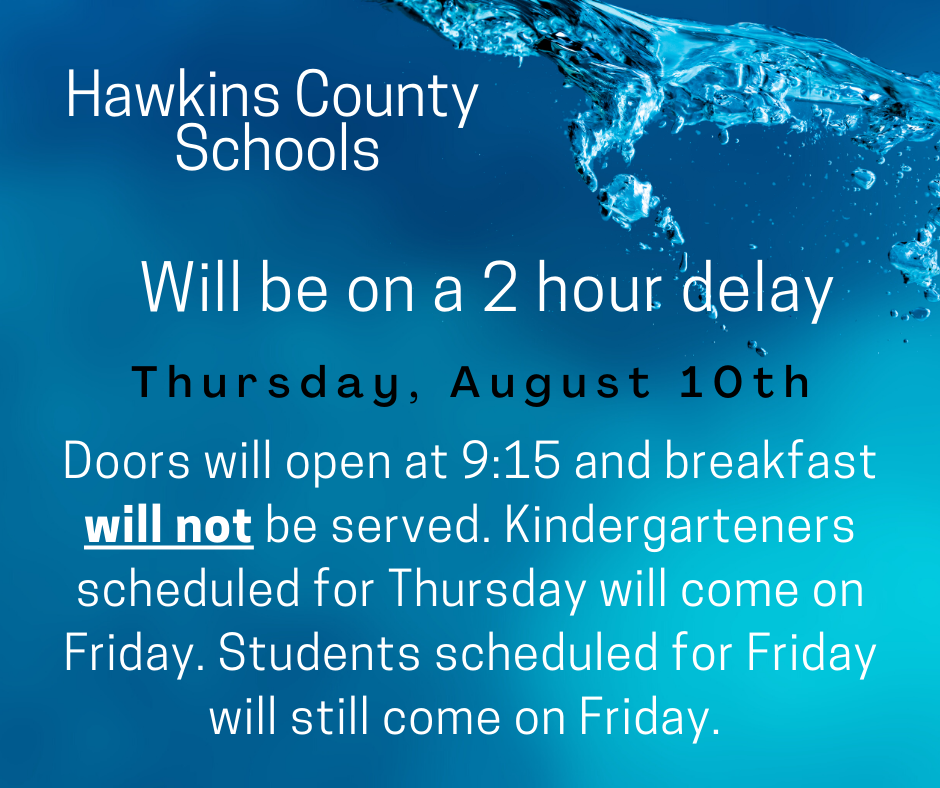 We are loving our new HCS App! Stay updated with access to events, documents, news from administrators, student stories, and even emergency notifications. We are excited to announce our newest feature added to our HCS App is "Rooms" which offers parent-teacher communication. Parents can see classroom announcements and message teachers in the same app where they get district and school news and updates. Teachers can find all of their messages on one platform. Students can message their teacher directly with questions about upcoming assignments. This is a safe space for student-teacher communication that is monitored by administrators. If you do not have the Hawkins County Schools App, please download the Hawkins County Schools app for free on both Google Play or Apple App Store. Download for Android
https://bit.ly/3WROUgQ
Download for iPhone
https://apple.co/3RsnvB9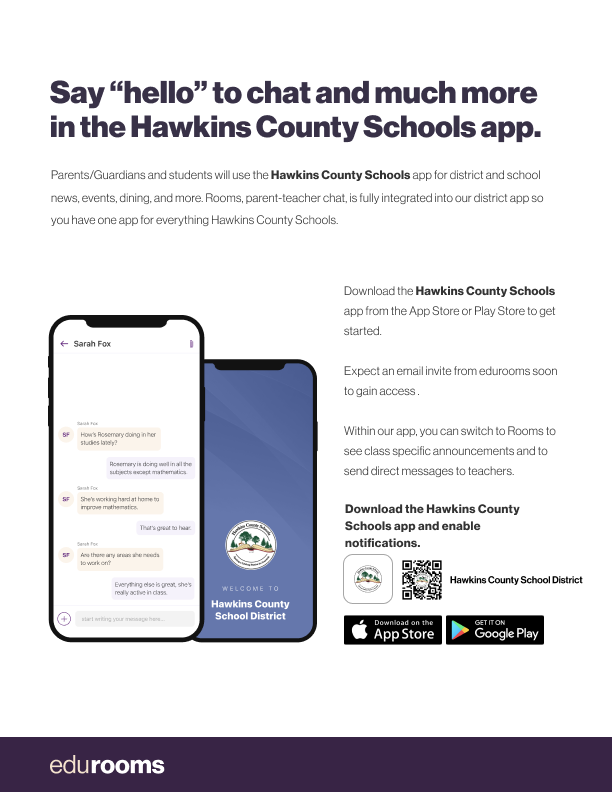 Welcome back to the 2023-24 school year with Hawkins County Schools. We have received some questions regarding school supplies. Please see below. 1. Hawkins County Schools will provide all materials and resources needed for the basic educational program in each class and school. As a school system, one of our primary roles is to ensure all students have the basic instructional materials needed to successfully navigate all courses and fields of study within our school system. 2. We will provide each of you, as needed, a list of supplies we will provide each student, and what you as a parent, will need to provide. Items like backpacks, will need to be provided by parents. 3. In addition, you may receive "optional supply" lists from your child's teacher as we enter the start of the school year. Please realize these items are completely optional. Please know that we provide optional supply lists for those who ask our schools how they can assist with extra supplies and resources. For those who have the means and wish to participate, we appreciate this. However, if you cannot assist or simply choose not to do so, your child will not be excluded, made to feel left out, or not provided with the supplies in question. Thank you for partnering with Hawkins County Schools. We look forward to working with all of you this year. Matt Hixson, Director
Hawkins County Schools will be closed today 3/2/2023, due to water saturation, possible flooding and continued rain through the day.
The regular scheduled Hawkins County Board of Education Board meeting has been rescheduled to Wednesday, March 8th at 5 pm at the Charles A. Fuller Board Room.

​Job Fair Thursday, March 30, 2023 ​@ Charles Fuller Training Center 1722 East Main Street Rogersville, Tennessee 37857 3:30 p.m. – 5:30 p.m.
Due to potential for high wind, excessive rain tonight and saturated ground, Hawkins County Schools will be closed Friday Feb. 17, 2023.
Hawkins County Schools will close tomorrow 2/13/2023, due to water saturation, continued rain through the day, and freezing temps overnight.

If you were unable to attend an in-person Third grade family meeting around the Tennessee Learning and Remediation Success Act, we will hold a zoom this afternoon at 5:00 for any third grade parent interested in attending and learning more about this law. Join Zoom Meeting
https://us02web.zoom.us/j/86499405382?pwd=OEZBMDdHOXg3VWVTOVZpb0p2Znc0Zz09
Meeting ID: 864 9940 5382 Passcode: 050388
There Will Be No Transportation for TAG on Saturday February 4th
Due to existing moisture, additional rain forecasted overnight, and freezing temperatures likely in the early morning hours, all Hawkins County Schools will be closed tomorrow, Friday, February 3, 2023. Please stay home and stay safe. Thanks, Matt Hixson
Hawkins County Schools originally planned to release the Summer Learning Camp registration link for rising 1st - 9th graders today. Due to additional information obtained from the Tennessee Department of Education (TDOE), we will be required to make updates to dates and times for Summer Learning Camps. Our hope and intent is to release information to you by mid-February for registration. Stay tuned to our district and school social media and website for updates and additional information. We apologize for the delay in Summer Learning Camp registration and are currently working with our education partners to release a plan that will meet the requirements of TDOE and state law.

Out of an abundance of caution, and per recommendation by Hawkins County Sheriff Department, Hawkins County Schools has initiated a hold and secure at Bulls Gap School this morning. We did not initiate a lockdown, nor were we instructed to take additional precautions. There is no indication that any students are at risk of harm. We continue to receive updates and we will update you when we are able. Again, this is just a precautionary measure. Thanks, Matt